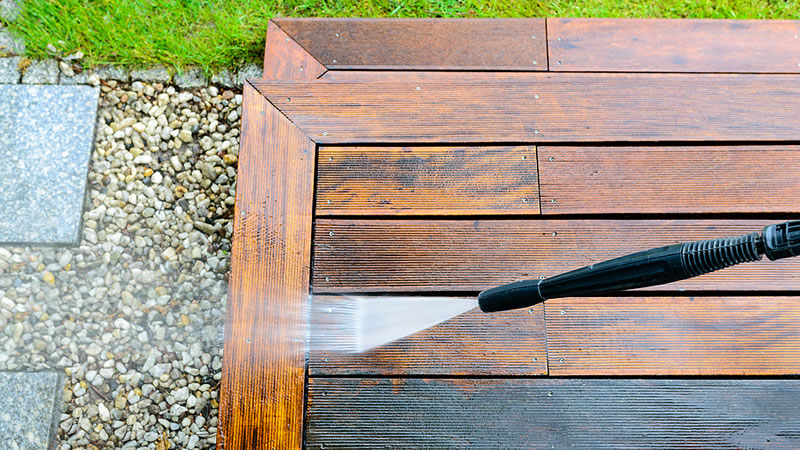 Deck & Fence Cleaning Service In Fayetteville, NC
A deck is an extension of your home's living space and where you will spend much of your time during the summer months. Consequently, it needs to be treated and cared for as much as your Houston home's inside rooms.  It's not uncommon for an unmaintained wood deck to look like it's many years older than it really is.  Wood, being a natural building material is susceptible to stains, invasive fungal bacteria (mold), algae and other contaminates.
After only a few short years your deck will look like it's on it's last legs.  Especially if your home is surrounded by trees, or shrubs and other foliage.  All of that organic debris falls onto the deck and when left alone it will breed more organic growth like algae and mildew and mold.
Douse-A-House is a power washing company based out of Houston, Texas and serving the surrounding area.  We specialize in power washing and cleaning wood and composite decking so it can be ready for new stain or a sealer.
Our Services
Deck Power Washing
Deck Cleaning
Deck Stripping
Club House Decks
Outdoor Restaurant Decks
Wood and Vinyl Fence Cleaning
Why Choose Douse-A-House For Your House Washing Needs?
We understand you have many choices in the Fayetteville area when it comes to choosing a company to wash the outside of your house.  When you choose to hire Douse-A-House you're partnering with a small, locally owned, family-run business who appreciates the commitment you're making to improve your property.
We are sufficiently insured for both residential and commercial projects, we have professional grade equipment, environmentally friendly detergents, and we always arrive happy and with a friendly attitude.  We take great pride in the house washing projects we take on and you can count on us to carefully and safely clean your homes exterior surfaces without causing damage.
If you'd like to schedule an estimate for your deck or fence power washing project please give us a call at (910) 308-5700 or fill out our online contact form and we'll get right back to you.