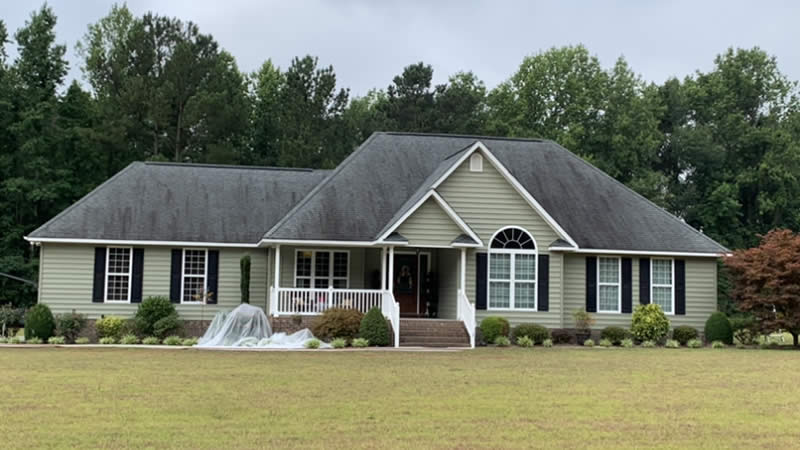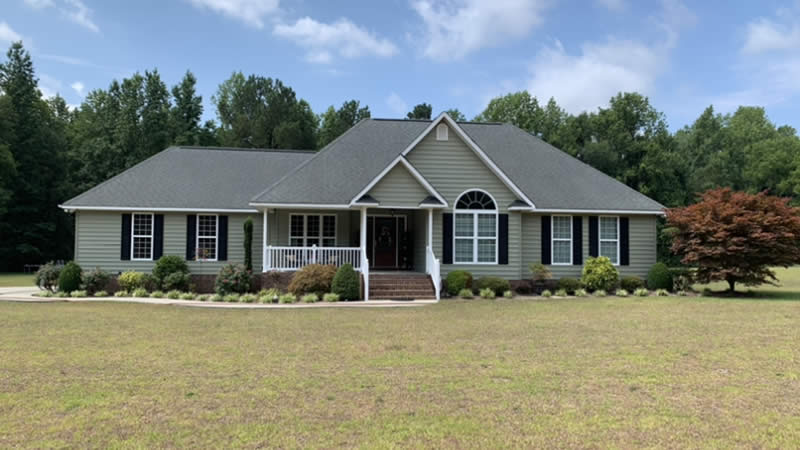 Roof Cleaning & Roof Washing Services Fayetteville NC
Having a dirty roof doesn't just look unsightly, it can also cause damage your roof to the point where it will need repair, even replacement if you let it go for too long.  Dirty roofs are common if you just take a look around your neighborhood you are pretty much guaranteed to see the shady side of a few homes that will have moss and/or algae growing on the roof.
You've probably already heard of several things a homeowner can do such as using Zinc Oxide powder, or sprinkling Laundry Detergent and some other off-the-shelf solutions available at almost every hardware or home improvement store. These methods do not work. They are tedious to apply, usually expensive to buy enough to treat an entire roof with and if you don't do it correctly you can actually damage your roof even more. You can waste considerable amounts of time and money trying to do this on your own. Sometimes even more than the cost of a professional roof cleaning!
Douse-A-House specializes in cleaning the dirt, grime, moss, and algae off your roof using a very safe process called "Soft Washing".  This method of roof cleaning is the only way to clean asphalt shingles as recommended by the asphalt roofing manufacturers association (ARMA). We spray a specially formulated detergent onto your entire roof to fully kill and remove all the mold, algae and lichen's that are actually feeding on the organic material in your shingles.
Did You Know…?  The black streaks you might see coming down your roof are actually algae that is living and feeding on the limestone filler in your shingles.  This particular algae called "Gloeocapsa Magma" is very hard to remove and can take years off the life of your roof because it prevents the roofing material from working as it was designed.  As the rain washes the algae down your roof, you get those unsightly black streaks across your entire roof.
Why Choose Douse-A-House?
Soft Washing Won't Damage Your Roof.
Your Roof Will Look Brand New Once Again.
This Will Prevent Algae Growth For Several Years.
We Are Fast, Thorough and More Affordable Then Replacement.
If you've been told by a contractor that your roof needs replacement (because of the black streaks) you need to call us first.  Many contractors do not know what these streaks are and would rather sell you a new roof (for many thousands of dollars) rather than recommend a good cleaning.
Some contractors may even know it's Algae but may tell you that the cleaning process will damage your shingles.  This is likely because they may not know about the "Soft Washing" process which is very different from other competitors advertising "low-pressure" roof cleaning.  There are a couple different "safe" ways we can clean your roof depending on what type of roofing material you have.
ANY type of pressure washing on your roofing material isn't good and can void your shingle warranty.  We all know that rain and hail can come down fierce and hard when pounded by the wind during a storm but it's no match for the concentrated jets of water from a pressure washer, especially with inexperienced hands operating it.  You can literally destroy an entire section of your roof in just a few quick seconds.
Why Choose Douse-A-House For Your Roof Cleaning Needs?
We understand you have many choices in the Fayetteville area when it comes to choosing a company to wash away the dirt and grime from your roof.  When you choose to hire Douse-A-House you're partnering with a small, locally owned, family-run business who appreciates the commitment you're making to improve your property.
We are sufficiently insured for both residential and commercial projects, we have professional grade equipment, environmentally friendly detergents, and we always arrive happy and with a friendly attitude.  We take great pride in the roof washing projects we take on and you can count on us to carefully and safely clean your homes exterior surfaces without causing damage.
If you'd like to schedule an estimate for your roof cleaning project please give us a call at (910) 308-5700 or fill out our online contact form and we'll get right back to you.